Kenya's Opposition discredit Governments' handling of Food Crisis and Graft to win votes
The Kenyan government's handling of food shortages caused by one of the East African nation's worst droughts in three decades and allegations of corruption are emerging as the key opposition weapons in its bid to unseat President Uhuru Kenyatta and his Jubilee Party in August elections.
"It's clear that the corn shortage was badly handled by government," said Emma Gordon, a senior analyst at Bath, England-based Verisk Maplecroft. "It feeds into disenchantment, into the corruption narrative. The timing for Jubilee is atrocious."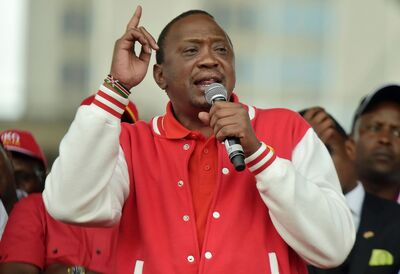 Kenyatta, 55, is seeking a second term in a race against 72-year-old former Prime Minister Raila Odinga. With the two leaders' ideas on free education, universal health care, expanded cash payouts for the elderly, generating jobs for millions of unemployed youths and food security all similar, the focus may shift to Kenyatta's record in government and the role of graft in Kenya, which is ranked 145th of 176 nations in Transparency International's Corruption Perceptions Index.
Elections in Kenya, East Africa's biggest economy, heighten investor concern because of violence that engulfed the nation in three of the past five votes. In a disputed December 2007 vote, ethnic violence left 1,100 people dead and forced 350,000 more to flee their homes. The unrest caused economic growth to slow to 1.7 percent in 2008 from 7.1 percent a year earlier.
Food Shortages
Kenya's latest drought, which has spanned three seasons, cut production of corn, used to make a staple food, and resulted in shortages of products including sugar and milk. Inflation accelerated to 11.7 percent in May, the highest level in five years, squeezing families in an economy where almost half of the population lives on less than $2 a day.
People "are linking the high cost of living and food shortages to corruption," Dismas Mokua, a political analyst at Trintari, a Kenyan risk advisory company, said by phone from Nairobi, the capital.
Opposition pledges to crack down on graft by dismantling cartels it alleges have "captured the state" strike a chord with voters who see the Jubilee Party as having presided over "massive corruption," he said.
The Jubilee Party says it's been tough on graft. "Some feel corruption will always be with us but we do not," it said in its manifesto. "It directly harms businesses, discourages innovation, harms Kenyans and weaken government."
Odinga's alliance has accused the government of ignoring the drought warnings and some officials of deliberately misleading the nation. Agriculture Secretary Willy Bett said all possible steps were taken to limit food shortages.
Potential Runoff
Concerns over rising living costs will "feature highly among the electorate," with the opposition likely to draw enough ballots to force a runoff vote, Ahmed Salim, a Dubai-based vice president at Teneo Strategy, said last month. "Although opinion polls signal that Kenyatta remains the favorite, his re-election will likely be much more challenging" than his 2013 win, Salim said.
The government's handling of the corn shortages has fed into "widely held perceptions of elite corruption within government" and may boost voter turnout, according to Verisk Maplecroft's Gordon. More voter participation reduces the advantage of Kenyatta, who would benefit from low turnout in opposition strongholds, she said.
Kenyatta would get 48 percent of the vote versus Odinga's 39 percent if elections were held now, according to an opinion poll by the Nairobi-based Star newspaper published Tuesday. Kenyatta won the 2013 election with 50.07 of the vote, when Odinga — then running for the presidency for the third time — received 43.3 percent.
"Kenyatta may still be ahead, but the question is can he get over the 50 percent mark," Gordon said.
Bloomberg