Kenya's former First lady Mama Lucy Kibaki passes on – London
Former First Lady Lucy Kibaki died at a London hospital on Tuesday morning after being unwell for about a month.
Lucy, who was the wife of former president Mwai Kibaki, died aged 76 at Bupa Cromwell Hospital.
The former First Lady fell ill in March and was admitted at the Nairobi Hospital's Intensive Care Unit.
Lucy had earlier been taken to Gertrude's Children's Hospital for emergency care. Her family said she was suffering from age-related complications.
She was flown out of the country over the weekend for further treatment.
In a condolence message on Tuesday, President Uhuru Kenyatta said she will be remembered for her immense contributions to the country's development.
"Especially notable were her Excellency's virtues of leadership and commitment to improving the well-being of ordinary Kenyans. Her focus on tackling HIV/Aids in particular will remain an inspiration to many," he said.
She was last seen at a public function was in August 2010, when she seemed excited about the adoption of a new constitution, dancing to a famous gospel song, Kenya's Daily Nation newspaper reports.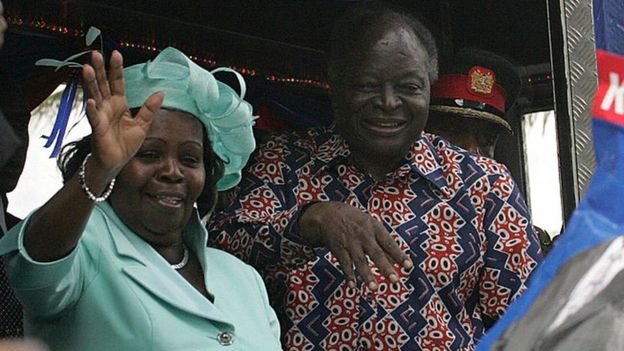 Mr Kenyatta said she had been unwell for the last month, receiving treatment in both Kenya and the UK.
Mrs Kibaki trained as a teacher, leaving her job not long after her marriage in 1962 to raise her four children.
"Her Excellency will be remembered for her immense contribution in the development of country," Mr Kenyatta said in a statement.
According to the Daily Nation, she organised the First International Aids Run in 2003.