Finsbury Park attack: Theresa May condemns 'sickening' terror attack
A terror attack near a London mosque is "every bit as sickening" as others in recent weeks, Theresa May says.
A man drove a van into worshippers close to Muslim Welfare House in Finsbury Park as they were gathered to help an elderly man who had collapsed.
He later died, but it is not clear if this was a result of the attack. Nine other people were taken to hospital.
A 47-year-old man was held on suspicion of attempted murder and later further arrested over alleged terror offences.
Scotland Yard said he was being held on suspicion of the commission, preparation or instigation of terrorism including murder and attempted murder.
Searches are also being carried out at an address in the Cardiff area.
Met Police Commissioner Cressida Dick said the incident in north London was "quite clearly an attack on Muslims", and the community would now see more police, including armed officers, in the area, "particularly around religious establishments".
It is the fourth terror attack in the UK in three months, after incidents in Westminster, Manchester and on London Bridge.
Police said all the victims of the attack shortly after midnight were Muslim and many were believed to have just left evening prayers after breaking the Ramadan fast.
Several of the injured are believed to be seriously hurt. London Ambulance Service said a number of other people were treated at the scene for minor injuries.
Security Minister Ben Wallace said the suspect was not known to the security services, and was believed to have acted alone.
The prime minister said police declared it a terrorist incident within eight minutes and a white man in his 40s was now in custody.
Mrs May was speaking after chairing a meeting of the government's emergency Cobra committee.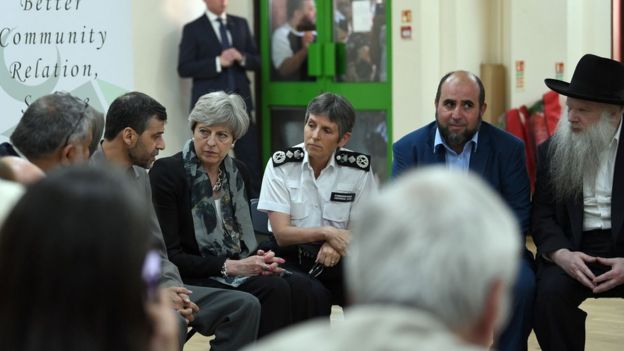 "It was an attack that once again targeted the ordinary and the innocent going about their daily lives – this time British Muslims as they left a mosque having broken their fast and prayed together at this sacred time of year," she said.
She added that "there has been far too much tolerance of extremism over many years".
"It is a reminder that terrorism, extremism and hatred take many forms; and our determination to tackle them must be the same whoever is responsible."
After making her statement outside Downing Street, the prime minister visited Finsbury Park Mosque, which is also close to the scene of the incident, where she held talks with faith leaders.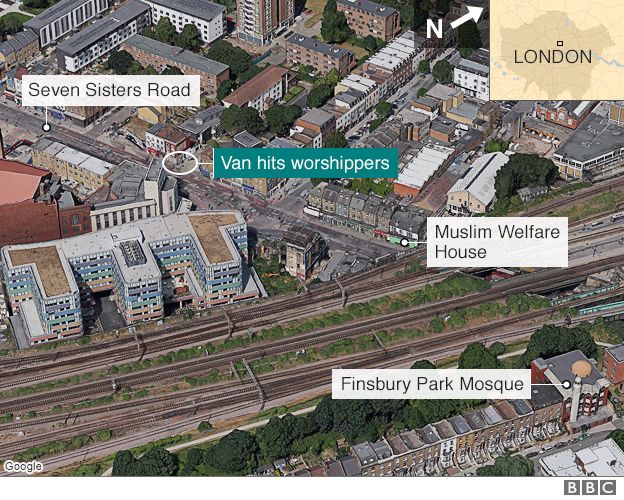 Eyewitness Abdul Rahman told the BBC: "When the guy came out from his van he wanted to escape, run away, and he was saying 'I want to kill Muslims. 'I want to kill Muslims.'
"I hit him on his stomach… and then me and the other guys… we held him to the ground until he couldn't move. We stopped him until the police came."
Adil Rana, 24, said "people were punching him and beating him, which was reasonable because of what he's done".
The imam of Muslim Welfare House – which is also a community centre – said a passing police van was flagged down after the attack.
Mohammed Mahmoud told reporters: "We told them the situation – there's a man, he's restrained, he mowed down a group of people with his van and there is a mob attempting to hurt him and if you don't take him then, God forbid, he might be seriously hurt.
"We pushed people away from him until he was safely taken by police."
Toufik Kacimi, chief executive of Muslim Welfare House, said the suspect had told those holding him "you deserve it" and was also saying "I did my bit".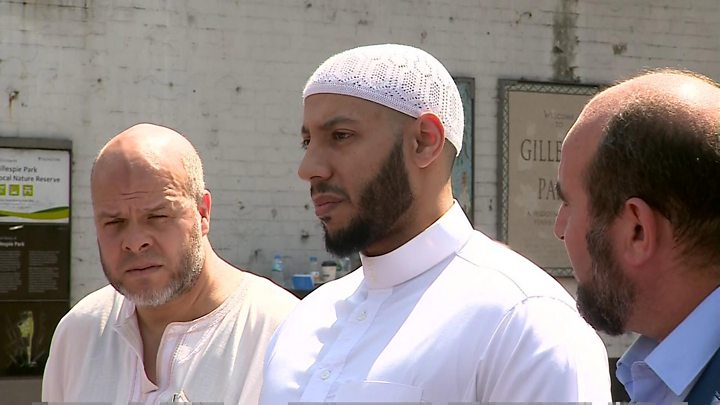 Another witness, who gave his name as Abdul, told the BBC the suspect was shouting "kill me, I've done my job".
Earlier, police also said the arrested man would be the "subject of a mental health assessment in due course".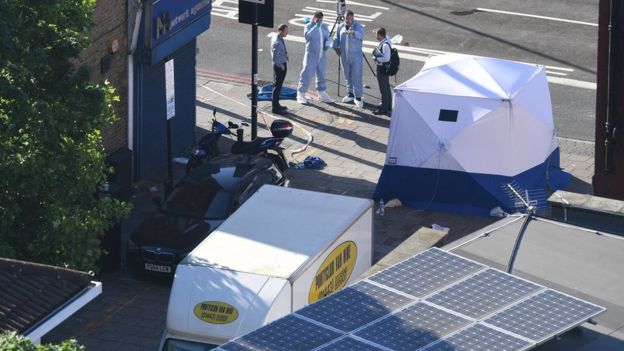 Mayor of London Sadiq Khan said: "While this appears to be an attack on a particular community, like the terrible attacks in Manchester, Westminster and London Bridge it is also an assault on all our shared values of tolerance, freedom and respect."
Thee mayor has also reiterated his calls for the government to provide more funding to the Met Police.
BBC home affairs correspondent Dominic Casciani said it was not the first time that Muslims – and specifically visible Muslim targets, namely mosques – had been targeted in an act of terrorism in the UK.
The threat from extreme right-wing groups has been growing in recent years, he said, noting that 16% of all terror arrests in the year to March were classed as "domestic extremism".